Pediatric Chiropractic in Osceola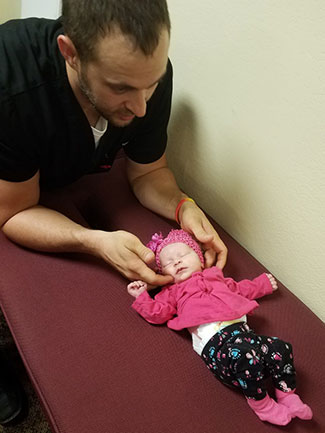 There's a saying, "As the twig grows so does the tree." We are passionate about helping kids grow into healthy adults and flourish throughout their life. Dr. Kyle has seen the difference that chiropractic care has made in the lives of his two sons.
Addressing Modern-day Stressors
From C-sections becoming more prevalent to the food-like products that are consumed with great regularity to stresses from school, sports and sadly, bullying in some cases, to both parents working, children today have many challenges. The good news is chiropractic can help children function at their maximum potential.
A Natural Approach to Better Health
We are thrilled to offer exceptional natural health care to children in Osceola. Dr. Kyle regularly adjusts his wife and their son and enjoys being able to address his young patients' health problems without the use of drugs. He has in-depth training in pediatric chiropractic and can provide help for a variety of common childhood conditions. These include
ADD/ADHD
Bed-wetting
Colic
Ear infections
What Your Child Can Expect
The process is the same for adults and kids. Your child will be examined, X-rayed and scanned using the Insight™ which helps to determine where a child's health is. Dr. Kyle will then treat accordingly. He adjusts children using a light pressure technique and will demonstrate on their arm first. As they get older, we will do more Diversified, which can be used throughout one's lifetime.
A Success Story
A 3-year-old girl had been in and out her pediatrician's office every few weeks as she was unable to go to the bathroom. She was given MiraLAX®. After Dr. Kyle adjusted her only six times, she was able to become regular and remains that way. He enjoys being able to help children function normally without medicine.
If you'd like to optimize your child's health, contact us today to book an appointment with our pediatric chiropractor!
CONTACT US »

Pediatric Chiropractic Care Osceola | (641) 342-2122