Meet Dr. Kyle Ellensohn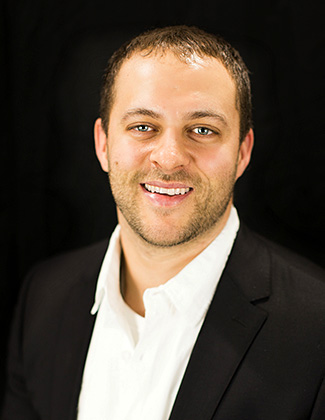 When he was a high school football player, Dr. Kyle sustained an injury after getting hit from the side. As a result, he couldn't walk, run or practice. He began limping severely and losing feeling in his leg. Though his parents weren't big proponents of either chiropractic or medical care, unless someone was hurt, they took Dr. Kyle to see a chiropractor. The doctor took X-rays and devised a treatment plan of going three times a week before school hours for a month. "Before the end of the month was over I was back into full pads in practice without any residual pain or issues with my leg."
Deciding on Chiropractic As a Career
Dr. Kyle shadowed some of the chiropractors in town who his dad was friends with and asked them questions. As he always liked math and science, he took courses in both during his undergrad studies before pursuing a Doctor of Chiropractic at Palmer College of Chiropractic in Davenport. While there, he started getting adjusted more frequently and seeing the benefit of not having headaches and back pain.
To further his education, Dr. Kyle became certified in the Webster Technique and completed pediatric training with Dr. Tony Ebel of Epic Pediatrics.
Appreciating a Natural Approach to Care
In addition to his interest in nutrition and healthy living such as exercising, Dr. Kyle gravitated toward chiropractic. He didn't grow up with over-the-counter medications or prescription drugs in the medicine cabinet, so it was refreshing to discover chiropractic as a natural way of helping the body to be better.
Finding Satisfaction in Helping Patients
Since he began practicing in 2012, Dr. Kyle has enjoyed helping so many patients. "I've had patients who had been suffering from problems for decades. Then to hear them say, after just a few weeks of treatment, that they hadn't felt that great in years is gratifying."
One particularly memorable story is of a man who came in saying that he and his wife were having trouble conceiving; they had been trying for five years. "Two weeks after he had started chiropractic care he told me that he and his wife were expecting. By helping the body to function it was able to do what it's supposed to do."
Outside the Practice
When he's not at Ellensohn Chiropractic, Dr. Kyle likes to spend time with his wife and boys, who are highly active in sports. "I make sure they get adjusted on a weekly basis to help them prevent injuries and allow them to function and perform at their peak." In their free time, they like to hang out at home, go out for dinner or get ice cream or coffee, take walks, go on bike rides and enjoy outings. These include going to apple orchards in the fall and parks in the summer.
If you'd like to feel your best, contact us today to book an appointment with Dr. Kyle!
CONTACT US »

Chiropractor Osceola | (641) 342-2122